Crime & Trauma Scene cleaning is a specialized Biohazard restoration in Mount Vernon NY 10553
5/2/2016 (Permalink)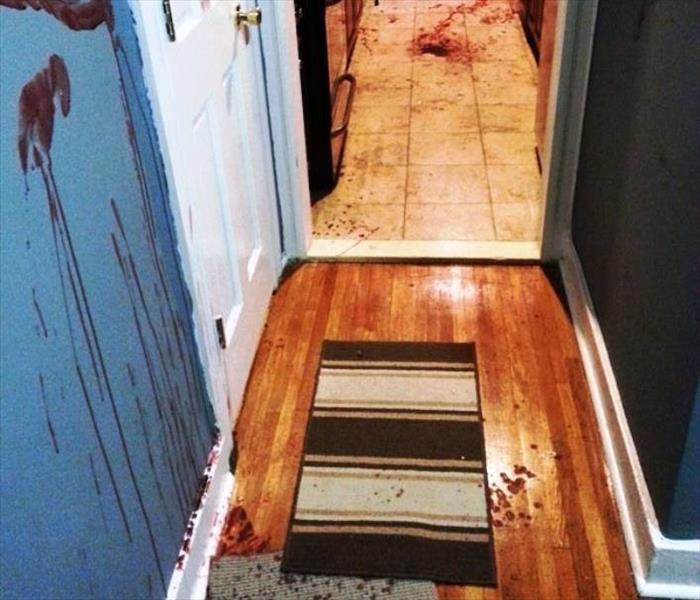 A client was cooking & cut themselves badly then ran for a phone to call 911. We effectively disinfected & sanitized a trail of blood from kitchen.
After the police or officials leave, who are you going to call for Crime & Trauma Scene cleanup?
This type of specialized cleaning involves restoring a home or business by containing, sanitizing, disinfecting and disposing of biohazards – like blood pathogen or hazardous materials and chemicals.
We are all fans of Ghost Busters, but they are not pros who can clean this type of mess for you...AND it's fiction. We will truly clean up the biohazard or crime scene for you.
Essentially, they can include bodily fluids, blood, tissue or other organic material. These scenes can elicit emotions that can delay the removal of some dangerous substances.
At SERVPRO of Scarsdale / Mount Vernon, we think that no family member or friend should have to clean up this type of biohazard in their home or business. Let the pros help you and take care of it quickly, sanitarily and effectively.
So, it's important that these cleanups are not attempted by family members and anyone involved in an injury, or even a death.
http://www.SERVPROscarsdalemountvernon.com/commercial-storm-cleanup we deodorize, disinfect and sanitize affected areas. That's after a bathroom overflow and flood, or a major storm and street flooding. We remove substances that can cause health hazards for others in homes and commercial loss buildings and companies.
At the same time, we provide caring and compassionate project management that is the best in the business. For nearly 50 years, SERVPRO has offered unmatched customer service in the Westchester County area. At SERVPRO of Scarsdale, we have a 99% customer satisfaction rate with caring, understanding biohazard removal work.
TRAUMA SCENE CLEANUP
Cleaning a crime or trauma scene usually runs the risk of spreading germs and even diseases. As a result, crime scene cleaners are required to follow NY state rules and specific OSHA regulations, as we remove and contain potential biohazards.
As an industry leader in disasters and restoration, SERVPROs and our SERVPRO of Scarsdale... in NY, offer the best in trauma scene cleanup and customer service, making it "Like it never even happened!"
So, if your business or home has a biohazard concern, has experienced vandalism or graffiti, the loss of a family member for natural reasons, or a crime scene situation, call on us for a complimentary walk-through. We will offer you a Scope of Work and estimate to help get your lives and property back to normal, quickly.
~ Forrest & Hillary Sheperd