What To Do If A Pipe Breaks
2/10/2022 (Permalink)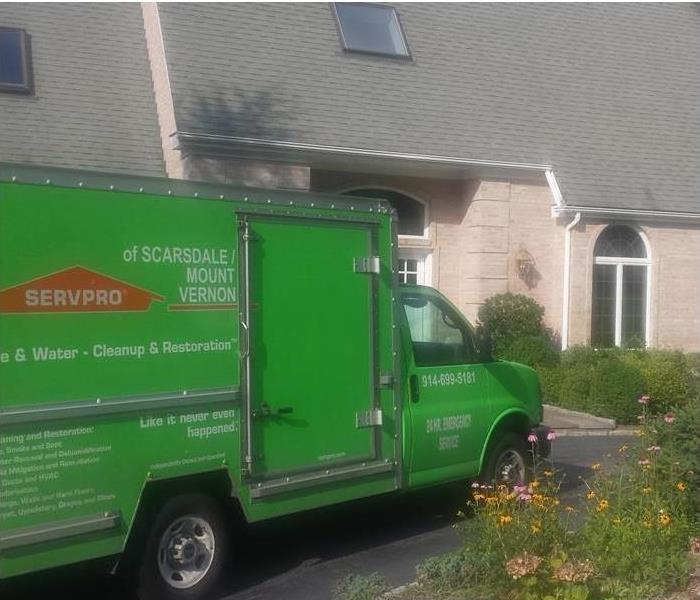 Our team is quick to respond to this flooded home. After a pipe malfunction, our team showed up with extractors and began to mitigate the damage.
What Should You Do If A Pipe Bursts?
A pipe with weak points or a pipe under pressure often goes unnoticed until it breaks. Bursting pipes require the assistance of a water restoration specialist. Professional technicians not only fix the broken pipe but also clean up the flood waters to help you avoid mold. When a pipe breaks in your home in Scarsdale, NY, the following steps can help you get your home on the road to recovery as quickly as possible.

1. Stop the flow of water. The sooner you can arrest the flood at its source, the smaller the flood will be. Every minute counts when it comes to preventing extensive water damage. Shutting off the main water valve won't repair the damaged pipe, but it can help to minimize the amount of cleanup that is required.

2. Call the professionals. Enlisting the services of experienced technicians to deal with bursting pipes and their aftermath is crucial to preventing further damage. Flood restoration specialists can remove excess water and dry out the flooded area. It is important to start this process as soon as possible to prevent the growth of mold. If your home in Scarsdale, NY, is left untreated after a flood, you are welcoming spores to settle and multiply on damp surfaces.

3. Document the damage. While you are waiting for the repair technicians to arrive, take pictures and make a list of everything that needs to be repaired or replaced. Fight the urge to clean up the mess before you do this. Your rushed efforts could leave you with insufficient evidence of the problem when you file an insurance claim, and if the water is contaminated, it could spread harmful bacteria or make you ill. It's best to leave the cleanup to the experienced professionals.

Bursting pipes require immediate action. If a pipe breaks in your home, enlisting repair services quickly to fix it and clean up the mess can significantly minimize the damage and further complications.